Testing of TMT Bars at SRMB
Rods 'n' Bars Outlet, Rajasthan.
Process to test the TMT
bar for FREE.
Test TMT Bars For Free From
SRMB's Rods N Bars Outlet.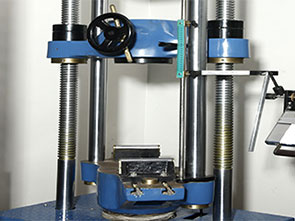 Steel Testing Facility
Our sophisticated Universal Testing
Machines (UTM) test the steel in
your presence.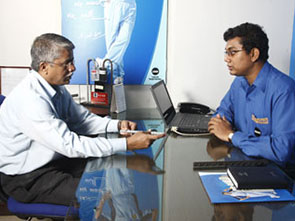 Expert Advice
Our experts offer free on- & off-site
consultation on selecting steel & good
contractors for all your construction.
Assured 100% Genuine Steel
Customers step out with peace
of mind because they know they
get 100% genuine steel.
COCHIN
Kerala
321-B | Ambattukavu | Kalamassery |
Near Highway Garage | Aluva 683 106 ,
Kerala | Phone- (0484)-262 0784 /
91-96052 77739(M)
BALURGHAT
West Bengal
Tank More | Balurghat | Dakhsin
Dinajpur, West Bengal |
Phone- 91-92300 66110(M)
KANNUR
Kerala
RAF Tower | Thiruvangad | Peringalam |
Thalasserry – 670 103 | Kannur | Kerala |
Phone- 91-98479 55500(M)
MEDINIPUR
West Bengal
Kishorenagar, Kharagpur, Bye Pass,
Contai, East Medinipur, West Bengal |
phone: 9932099439
BANKURA
West Bengal
Kalyani Bhawan, Kerani Bandh, Beside
Fly Over, Bankura - 722 101, West Bengal.
Contact No. 7603013395
NADIA
West Bengal
M/s. Neer Construction | 136, Don Bosko
Sarani, Nirmalnagar, Krishnanagar, Dist.
Nadia, Pin: 741101 | Contact: 9230066098
BARASAT
West Bengal
M/S. Gobindo Trading | Barasat |
Champadali More | Opp. Bijaya Cinema
Hall | N. 24 PGS | Kolkata – 700124, West
Bengal | Phone- 91-98307 67024(M)
SILIGURI
West Bengal
M/S. Garg Vanijya P. LTD. | Arai Mile -
Sevoke Road | Near Sikkim Builder |
[Opposite Darpan Publication] |
Siliguri - 734001, West Bengal
Agartala
TRIPURA
C/o, Mrs. Kalpana Banik, House No: 190154,
Holding No -19-A/801-A, Banamalipur, Laxmi
Narayan Bari Road, P.S. East Agartala,
Pin code-799001, Tripura